DailyOralCare may earn a small commission if you purchase a product through one of our links (at no cost to you). Learn more.
Looking for the best Sonicare toothbrush? You have come to the right place. Sonicare is known for producing some of the best electronic toothbrushes on the market. While many people are familiar with the name brand, most are not aware of the wide assortment of products made available by Sonicare.
One toothbrush is not just like another, and it's important to understand the differences in order to get the most out of your purchase. Also, if you are looking for an electric toothbrushes that you can use with braces, check out this article.
Sonicare DiamondClean Electonic Toothbrush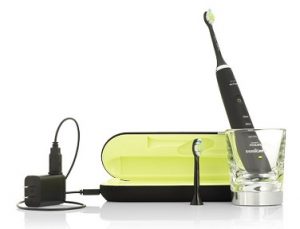 The DiamondClean is the elite Sonicare model. It has several features which place it at the helm of electronic toothbrushes.
It's heavy duty, ceramic handle feels anchored, but not too heavy for a solid brushing experience. Unlike any other models, this version has five different cleaning modes (Clean, White, Polish, GumCare, Sensitive) to personalize vibration intensity to your comfort level.
It also comes with a glass charging stand for a clean, high tech look. This is the best sonicare toothbrush for those who have sensitive teeth and gums, and need a fine tuned, specialized level of vibration.
>> Click here to buy Sonicare DiamondClean and view Discounts <<
Sonicare FlexCare Platinum
For those who are over-brushers, this toothbrush helps alleviate the pressure put your gums and teeth.
The bristle head on the FlexCare moves with the contour of your teeth to keep the brushes from pressing too hard on the gums while reaching those hard to get spots.
This model has three vibration levels to help maintain proper gum health, and an advanced pressure sensor that alerts the user when they are pushing too hard on the brush.
(Current discount: save $30.00)
>> Click here to buy Sonicare Flexcare Platinum and view Discounts <<
Sonicare HealthyWhitePlus
This model is a combination of the easy to use interface of a starter brush with a more advanced brush head.
The DiamondClean bristles are arranged for the optimum plaque scrape, giving your teeth a deep clean.
The model itself is easy to use, and like the FlexCare has three intensity controls to acclimate to your custom brushing level.
This is the best Sonicare for those who have plaque-build up, and want a user friendly toothbrush.
(Current discount: 33% + $10 off with coupon)
>> Click here to buy Sonicare Flexcare Platinum and view Discounts <<
Sonicare 2 Series Plaque Control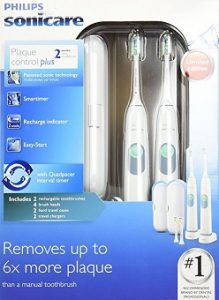 If you have yet to try an electric toothbrush, this Sonicare model is great for beginners.
It removes up to six times the amount of plaque picked up by a manual toothbrush.
To keep things simple, the Plaque Control Model has one cleaning mode.
Choosing the "Easy Start" option on your first brush allows your toothbrush to gradually increase the intensity of sonic vibrations to properly acclimate your mouth to the new toothbrush over the first fourteen uses.
>> Click here to buy Sonicare Flexcare Platinum and view Discounts <<
Sonicare Electric Toothbrush for Kids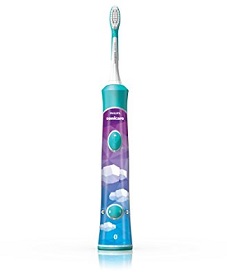 Dental hygiene can prove extremely challenging to young children! Getting them to put the brush in their mouth, let alone take the time to properly brush can seem daunting. However, Sonicare has made teeth cleaning a little easier and a lot more fun with an interactive app!
The brush itself is simple to operate, with two vibration settings and a two minute timer to help your child brush hard and long enough. The interactive app allows your child to "play along," brushing their teeth through various activities to keep teeth cleaning habits fun and interesting.
>> Click here to buy Sonicare Flexcare Platinum and view Discounts <<
Before investing in the most expensive toothbrush available, look and see what options suit your needs most. You might find that a more inexpensive toothbrush will do the trick nicely, or you may discover that the more expensive toothbrush with all the bells and whistles is worth the cost.
Amazon and the Amazon logo are trademarks of Amazon.com, Inc, or its affiliates.