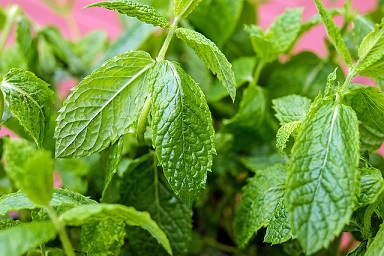 DailyOralCare may earn a small commission if you purchase a product through one of our links (at no cost to you). Learn more.
While it's no secret that no one likes bad breath, it can be difficult for some of us to avoid. With our fast-paced lives, we do not always have the time to make an inconvenient trip to the bathroom in the middle of the day to brush our teeth. Various companies have put out different types of breath mints to help bad-breath odors. Unfortunately, these do not usually work to treat the root cause of bad-breath, and only provide temporary relief.
If you find that you need a strong anti-dote to bad breath that doesn't take a lot of time to apply, here are a few possible solutions for you!
If you are looking for other natural ways of getting rid of bad breath, check out this and this.
T-SPRAY Cosmetic Teeth & Breath Spray
Not only does T-SPRAY freshen your breath in just a couple squirts, it also works to whiten your teeth by protecting your enamel from staining.
T-SPRAY contains Calcium ions that create a protective shield over your teeth, preventing staining debris from actually touching the surface of your teeth.
Menthol and other ingredients work to eliminate odor-causing bacteria, keeping your mouth clean and fresh, making it one of the best mint refreshers for bad breath!

TheraBreath Fresh Breath Oral Rinse (Dentist Recommended)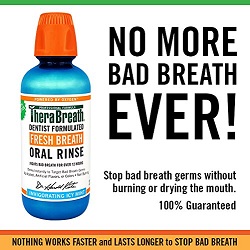 TheraBreath's mouth rinse is a powerful, but alcohol-free formula that works to neutralize bad breath.
Its oxygenating technology gives your mouth the extra boost it needs to repair damaged tissue while eliminating bad bacteria.
This formula comes dentist recommended as one of the best mints for bad breath!

MintAsure Internal Breath Freshener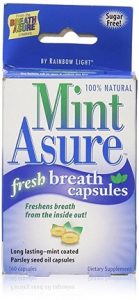 If you enjoy post-meal mints, MintAsure has taken things one step further to promote good breath.
First, allow the mint to sit in your mouth, just as you would a regular mint.
Then, swallow the remaining capsule with water, and allow the powerful herbs to neutralize bad breath and food causing odors from your stomach.
Users who suffered from ketosis saw a marked improvement in the freshness of their breath.

TheraBreath Dry Mouth Lozenges
Having dry mouth allows for bad bacteria to sit longer in your mouth since there is not the proper amount of saliva to keep your mouth refreshed after swallowing.
Because of this, bad bacteria can build up and cause bad breath.
Its natural stimulants help the mouth create more saliva, and freshen the breath with Mandarin Mint flavor, giving you relief from dry mouth.
These lozenges are all natural, sweetened with xylitol (a natural sweetener that eliminates bad bacteria), and gluten free.

Listerine PocketPaks Breath Strips
When you need a fast-acting refresher on the go, Listerine PocketPaks are ready to use!
These tiny little sheets of Listerine that quickly dissolve on the tongue pack a powerful punch delivered in just seconds.
These rely mostly on menthols to provide fast removal of bad breath odors. This is one of the most popular mints for bad breath.

If you find that you continue to struggle with bad breath after trying different solutions, you may want to consult with your physician or dentist to discover the cause of your bad breath. It is much better to treat the cause than to mask the symptom. Once you understand the root cause of your bad breath, you may be able to better use breath fresheners as a part of your dental regime.
What Causes Bad Breath?
According to Harvard medical school, bad breath is most commonly caused by the bacteria on the teeth and the debris found on tongue. [1]
In most cases, bad breath is a result of poor oral hygiene. Brushing your teeth properly to get rid of the bad bacteria, and scraping your tongue is very effective.
Gum diseases such as periodontitis and gingivitis may also cause bad breath. If your mouth is usually dry, it may also lead to bad smells. [1]
It's best to seek medical advice to rule out such medical conditions. Only then you can cure bad breath.
Things Can You Do to Improve Bad Breath
Listed below are useful tips to help get rid of bad breath.
Brush after each meal; at-least twice a day.
Use a toothpaste that contains fluoride.
Avoid tobacco (smoking & chewing).
Use alcohol-free mouthwash before going to bed
Drink lots of fluids and keep your mouth moist.
Use dry-mouth sprays, such as the ones mentioned above. T-SPRAY Cosmetic Teeth & Breath Spray is a good example.
Don't miss your dental appointments and make sure they are regular.
Use a good toothbrush (check out our review of the best electric toothbrushes)

References
[1] https://www.health.harvard.edu/blog/bad-breath-what-causes-it-and-what-to-do-about-it-2019012115803
Amazon and the Amazon logo are trademarks of Amazon.com, Inc, or its affiliates.
You might be interested in...