DailyOralCare may earn a small commission if you purchase a product through one of our links (at no cost to you). Learn more.
Yellowing teeth are never attractive. Ever. Because of our busy lifestyles and daily priorities, our teeth can slip to the bottom of our to-do list until we look in the mirror and realize that we have a problem on our hands (or in our mouths). Of course, our first step towards whiter teeth is maintaining a great brushing routine with adequate products. But oftentimes, yellow teeth are not merely dirty, but actually stained, and must be treated accordingly.
We would all love a product that delivered instant whitening results. While science hasn't come that far just yet, there are several products out there that deliver significant results within relatively short amounts of time. Keep in mind that if you need hypoallergenic or sensitive products to check labels before you purchase a new product that may cause irritation.
Here are five top brands that users considered some of the best over the counter teeth whitening products.
Crest 3D Whitening Strips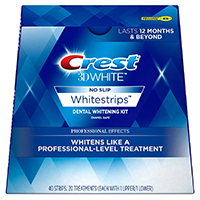 Possibly the best over the counter teeth whitening product for those of us who are looking for something easy and fairly affordable, Crest 3D Whitening Strips delivers a fuss-free whitening treatment. Unlike most leading brands of teeth whiteners, you do not have to fill trays, squeeze gel, or hold a light in your mouth. This is a simple teeth whitening method that you can use at home and get quick results.
Simply peel the whitening strip off the plastic, and place on your teeth for about thirty minutes (depending on your level of need). The strips fold over the back of your teeth for extra hold and all over whitening. Most reviewers saw results after just a few uses.
Because this product is so easy to use, and takes essentially no time to prepare, it is easy to add this whitener to your dental routine. You are not required to hold anything in your mouth, which frees up time if you have a busy schedule since you can whiten your teeth and complete other tasks simultaneously.
One of the drawbacks of using strips instead of trays is that if you are not careful to press the strip tightly onto your teeth, you may end up with only parts of your teeth whitened. Another thing to be wary of with this product (and most other teeth whiteners) is that your teeth may develop heightened sensitivity or discomfort. It is recommended to use a toothpaste developed to protect sensitive teeth during the use of this and any whitening product.
Click here to find Crest 3D Whitestrips on Sale
 Smartsmile Professional Teeth Whitening Kit
For those who want something close to the traditional whitening experience, Smartsmile offers a fast whitening treatment that uses the same whitener as professionals in the US and Europe. This product is fairly simple to use, and comes with two tubes of whitening gel and a tray which molds to your mouth upon first use.
Because of the submersion of the teeth into the gel, this product does an excellent job of reaching all the crevices of your teeth for even whitening coverage. Application time ranges from five to ten minutes, depending on the severity of your stains, which is a very short time for a huge payoff! Most users were happy with quick results after just a couple uses.
One thing users said about this product was that it was very powerful, and if it touched the gum area, it burned. This is to be expected since teeth bleaching agents are usually stringent. Fortunately, tissue burning can be avoided by careful application. The directions on the product were a bit confusing to some, but as long as users read through carefully, and used caution when applying the product, people were very happy with Smartsmile.
Click here to find Smartsmile Teeth Whitening Kit on Sale
Shine Whitening – 1st Class Edition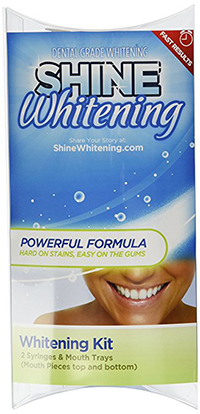 For those who feel that they need something that goes after yellowing on many levels, Shine Whitening offers a more extensive package.
It includes two types of whitening gel, moldable trays, and a teeth whitening light.
Many felt that this product did not make their teeth as sensitive as other products they had tried in the past.
Users loved how straightforward the directions were, and felt that this package truly was worth their time and money.
Some users found the multiple-step process to be hassle, but once they learned the process, most were happy with this product.
Once again, be forewarned that applying the gel directly onto the gums will cause irritation, so be cautious when applying your whitener.
This kit contain good instructions that are easy to read. Do as it says and you'll see white pearls shining in no time.
Click here to find Shine Whitening Kit on Sale
AuraGlow Teeth Whitening LED Light Kit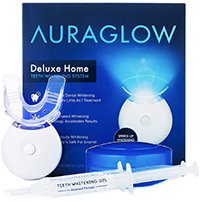 Whitening the teeth can often be an uncomfortable process, due to the fact that you must leave trays or other objects in your mouth for an extended amount of time. Trays are often messy, and hard to mold, making the process take longer than promised.
AuraGlow's Teeth Whitening Kit has attempted to solve these problems by creating a product that is streamlined, easy to use, and comfortable to wear. Their one-size-fits all tray requires no molding time, and the whitening light is designed to fit as comfortably as possible at the front of the mouth.
Users felt that this whitening kit was a good investment for their dental hygiene. While the results are not as fast as some of the other whitening products, most felt that there were little to no tooth sensitivity issues, and saw a steady increase in the whiteness of their teeth.
This product is a bit pricier than some would like to pay, however, if you like comfort and have a sensitive mouth or teeth issues, it may very well be worth the extra money. This product also doesn't have as many uses within one package as many other whiteners do, but you do not necessarily need to use this product daily as is the case with many other whiteners.
Click here to find AuraGlow Teeth Whitening System on Sale
Smart Ash Organic All Natural Whitening Tooth Powder
While normal over the counter teeth whiteners will work for most people, there will always be a few of us who simply can't handle strong chemicals or bleaches being put close to our skin. For those of us who are sensitive and need a hypoallergenic product, Smart Ash has created a tooth powder that cleans and whitens your teeth.
This product uses a fine grind of activated charcoal and bentonite clay to pull toxins out of the mouth and leave your teeth feeling and looking clean. The tooth powder contains no harsh products, and is safe for the whole family to use!
Be cautious when trying this product due to the fact that it is made of essentially a fine grind black dust, and will be messy if not well contained. Most people found that using this product in a contained area (such as the shower) worked best.
Because it doesn't contain the typical bleaching agents, this product whitens your teeth through cleaning. Those who already had clean teeth found that the product didn't whiten their teeth in the same way as chemically based products.
Click here to find Smart Ash Teeth Whitener on Sale
In Conclusion:
Remember that each person's mouth differs in sensitivity and severity of staining, so one product may work for you, and another may not. Don't feel as though whitening procedures need to be long and drawn out, a few minutes a day may be all it takes for you to have a cleaner, brighter smile! Be open to trying new and different solutions to get the results you want to see in the mirror.
Amazon and the Amazon logo are trademarks of Amazon.com, Inc, or its affiliates.