DailyOralCare may earn a small commission if you purchase a product through one of our links (at no cost to you). Learn more.
"Did you brush your teeth?" It's the age old question usually posed by parents right before bedtime. If you are a good little boy or girl, you not only brush your teeth, but also brush your tongue. If you are a dental saint, you also floss your teeth.
The truth is that for most of us, dental hygiene often turns into a quick "brush and go" that becomes more of a ritual than an actual cleaning process. Enter the electric toothbrush.
This helpful gadget has come a long way; not only does it properly massage and clean our teeth without much manual assistance, some now tell us when to start cleaning the next part of our mouths, time us to make sure we are brushing long enough to get our mouths truly clean, and can even sync with our phones to track our cleaning progress.
Can You Use an Electric Toothbrush with Braces?
"But what if I have braces? Can I still use an electric toothbrush?" The answer is, yes! When people ask this question, they are usually concerned about the potentially damaging effects of using an electric toothbrush on their braces.
After all, there are plenty of things we can't put into our mouths when we have braces (taffy, popcorn, hard candy, etc.) because we risk breaking off a bracket or causing other structural damage. However, as long as an electric toothbrush is properly applied to braces and used according to the guidelines that accompany your specific brush, an electric toothbrush can be very helpful.
Cleaning your "brace face" can be especially challenging because you not only have to get into the natural crevices areas of your mouth, you must also be concerned with cleaning in-between brackets and wires. An electric toothbrush can access these hard to reach areas and still apply enough massaging force to properly clean the gums and effectively get rid of plaque.
Electric Toothbrushes for Children
"What about the kids? Can they use electric toothbrushes?" The answer to this question really depends on the child and on the type of toothbrush you are looking into buying. For those toddlers who are very young and accident prone, or likely to damage the toothbrush, perhaps stay away from the more expensive electric toothbrushes.
There are plenty of simple electric toothbrushes out there that are specifically designed for toddlers. Some even have little musical numbers for the kiddos to brush their teeth to so that they can be sure they have brushed long enough!
As your child develops, more advanced electric toothbrushes can be very helpful. Children often do not yet have the fine motor skills needed to really clean their teeth. Poor dental hygiene can lead to an early onset of cavities, something to be especially mindful of if your kids have just started getting their adult teeth. Success using an electronic toothbrush will vary from child to child, but if they understand the basics of brushing, an electric toothbrush will only enhance their dental hygiene routine.
For children who have braces, electric toothbrushes can be a real life-saver. Because children typically have a hard time brushing long and thoroughly enough, electric toothbrushes can notify children when they have brushed an adequate amount of time.
Some have pressure alerts, which will light up when the user is pressing too hard against the gums, a useful feature for children who need a reminder to be gentle on their braces! And again, those hard to reach spots become much more accessible with an electric toothbrush, which will help children avoid the splotchy, discolored look that improperly brushed teeth can have once braces are removed.
Recommended Brands for People with Braces
There are many different varieties of electric toothbrushes to choose from, but here are the top five that users love and we recommend.
1. Oral-B Pro 7000 SmartSeries: Black Electronic Power Rechargeable Battery Electric Toothbrush with Bluetooth Connectivity Powered by Braun
Pros:
This toothbrush has lots of bells and whistles, perfect for the tech savvy teenager who needs a little motivation to maintain their dental hygiene. A little heavier and more powerful than former models, this toothbrush is built for deep cleaning.
Its round "CrossAction" brush head is designed to clean the individual tooth, with a steep enough degree in the bristles to reach in-between crevices, a very useful feature for those wearing braces. It is compatible with all Oral-B brush heads so that you can personalize your brush size and type. This toothbrush is also equipped with Bluetooth electronics, which allow for app syncing with your phone to track your brushing habits and give you feedback and tips for better brushing.
For those who do not necessarily want to use their phones along with their toothbrush, it also comes with an independent timer that tells you how long to brush your teeth to help pace you through the cleaning process. The newest feature that is not included in other Oral-B models is the special Tongue Cleaning setting to help get rid of excess bacteria.
Cons:
Because of its advanced tech side, this toothbrush is a bit on the pricey side. One feature that some users did not find helpful is the fact that it pauses after a certain amount of time to allow you to move from one quadrant of your mouth to another (others liked this feature because it made them slow down and clean all four quadrants of their mouth).
Last but not least, this brush takes a full 24 hours to charge upon purchasing, and must be kept charging when not in use due to a shorter battery life.
2. Xtech XHST-100: Oral Hygiene Ultra High Powered 40,000VPM, Rechargeable Electric Ultrasonic Toothbrush
Pros:
This brush by Xtech is primarily focused on its Ultrasonic technology, meaning that there are more vibrations per minute, allowing for a more vigorous gum massage. This brush is great for those who need a little extra help with strengthening their gums and getting rid of plaque that builds up close to the gum line.
Depending on your desired level of intensity, there are five different settings from which to choose. The bristles on this brush are a bit softer than other brushes, so as not to strip the gums and teeth from ultrasonic power, and are gentle enough to use on braces. This brush also comes with a UV light sanitizer, which cleans the brush using UV light rays to kill bacteria.
Cons:
Some users found the ultrasonic vibrations to be annoyingly strong in the sensation department. Others found the bristles to be a bit too soft, and didn't feel that the brush cleaned their teeth as deeply in crevices as desired. Just like the first brush, this one also pauses after about 30 seconds to give you time to switch quadrants in your mouth, a feature which some people simply feel is a waste of time.
3. Oral-B Pro 3000: Power Rechargeable Electric Toothbrush Powered by Braun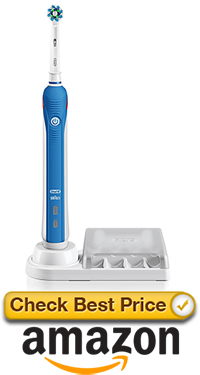 Pros:
Like all Oral-B toothbrushes, this brush oscillates and pulsates (in contrast to ultrasonic technology, which only uses vibrations). It is compatible with all Oral-B brush heads and has three different intensity levels for a more personalized tooth cleaning experience.
The 3000 model has a pressure sensor that lights up when the user is brushing too hard, and also has a large timer on the handle for easy timing. Its simple interface makes it a perfect first electric toothbrush for children or for beginner adults. For younger children with braces, this toothbrush will help guide them through the brushing process without being overly harsh on both their teeth and their braces.
Cons:
While this is a solid, simple electric toothbrush, a few users felt that the price was a bit steep (a recurring issue for those looking into switching to electric). Some users with sensitive gums found this product to be a bit too vigorous on their gum tissue. Others noted that the base charger was notoriously hard to clean (though this can be largely avoided by simply drying the toothbrush before returning it to the charger).
4. Philips Sonicare: DiamondClean Sonic Electric Rechargeable Toothbrush, Amethyst, HX9372/04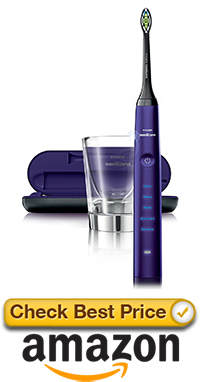 Pros:
Sonicare does not oscillate or turn, but instead relies on sonic vibrations to clean the teeth. For those with sensitive mouths, Sonicare may be a better fit than an oscillating brush. The first thing to note about this toothbrush is that it is very lightweight.
For those who struggle brushing with heavier, more cumbersome models, this toothbrush may be the perfect fit. While lightweight, it is still an incredibly powerful toothbrush. Some users commented that it felt like they just had their teeth professionally cleaned! It has several modes for personalized cleaning, and a new oval shaped head to better fit inside the mouth.
The new and improved shape may also help those with braces to navigate those small, tough-to-reach spots that a classic Sonicare head may not be able to reach. This Sonicare model comes with a glass cup that sits on the charging base. The brush sits in the cup, and is wirelessly charged through the glass, so you do not have to bother with plugging and unplugging the actual toothbrush itself.
Cons:
While this is a great toothbrush, most Sonicare users agreed that unless you really want the sleek, new features (mostly the wireless charging base), other Sonicare models will work just as well for a lower price.
This is one of the lightest models, so if that is important to you, it may still be worth considering. One user felt that the interface on this new model was not as easy to navigate as it should be, considering the price.
5. Oral-B Pro 5000: SmartSeries Power Rechargeable Electric Toothbrush with Bluetooth Connectivity
Pros:
This brush features the Oral-B Floss Action brush head, which helps clean in-between the teeth for a cleaner feel. Anyone who has or has had braces understands that cleaning between the teeth is particularly important to avoid plaque build-up.
Flossing can be extremely difficult (not to mention time consuming) with braces, and while a special brush head can never fully replace flossing, it can certainly make the cleaning process a little easier. This model also comes with a visible pressure sensor, helping you know when to ease up on the brush, and has several different cleaning modes. Oral-B has included Bluetooth technology in a similar app capacity as the Pro 7000 model, allowing you to track your brushing habits and make progress accordingly. Most users felt as though this was there "go-to" brush, not too powerful, but an overall solid toothbrush.
Cons:
Unlike the Pro 7000, users were none to favorable towards the Bluetooth technology, saying it seemed more like a gimmick on this model than a truly useful feature. A few users felt that the interface should have had a few more alerts (or at least different buttons) to let you know when you had switched from one cleaning mode to the next.
Electric toothbrushed are a lot better when compared to manual toothbrushes. They remove more plaque, imporve gum health, comfortable to hold and easy to use. Click here to find out why doctors at Mayo Clinic also recommend electric brush over a manual one.
When purchasing an electric toothbrush for braces, take some time to consider the specific needs of your child or whomever will be using the brush. Keep things like size, shape, flexibility, in mind to make a more empowered purchase that will work for the user, the braces, and not break the bank. Remember that you can also purchase extra heads for specific needs (reaching between teeth, general brushing, softer or harder bristles), which make electric toothbrushes a great tool to keep that "brace-face" clean and healthy.
Amazon and the Amazon logo are trademarks of Amazon.com, Inc, or its affiliates.
You might be interested in...