DailyOralCare may earn a small commission if you purchase a product through one of our links (at no cost to you). Learn more.
Can a carbamide peroxide teeth whitening gel help you? Does it really work? Let's talk about that in this article.
Your smile can be your best feature. It can also be an embarrassing, unsightly mess of stains and discoloration. While brushing and flossing are great ways to clean your teeth and prevent cavities, good dental hygiene isn't always enough to keep our teeth from becoming stained. Coffee, tea, soda, and other substances can stain and dull our teeth, causing us to lose the beauty of a white smile. Many products claim to have the special formula that will brighten up your teeth, but what ingredient is actually the best to put on your teeth?
Click here to find some of the best over-the-counter teeth whiteners that work.
What is Carbamide Peroxide?
Carbamide peroxide is an agent that is made up of urea and hydrogen peroxide. It is commonly used in ear wax removal products and dental whitening. It is also used as a disinfectant by dentists around the globe. Compared to hydrogen peroxide, carbamide peroxide is a stable molecule that can stay stay on teeth and be active much longer; providing excellent teeth whitening benefits.
Hydrogen Peroxide is Fast Acting
You may know that hydrogen peroxide is one of the leading teeth whiteners, and in many (if not most) teeth whitening products and gels. In fact, diluted hydrogen peroxide is often used as a home remedy to quickly whiten teeth.
Because it is fast acting, hydrogen peroxide is usually found in products that promise quick results. While it is fast acting, it is not a stable compound, which means that your teeth will fade back to their dull, yellow state rather quickly if you do not keep up with your whitener application.
Carbamide peroxide is More Stable
Carbamide peroxide is almost the same compound as hydrogen peroxide, except it is about a third of the strength. Because it isn't as strong as hydrogen peroxide, you will not see the same fast results when using it as a whitener. However, it is a much more stable compound, and the results will last much longer, even if they take some time to show up in the mirror.
While most teeth whiteners use hydrogen peroxide, there are several that do use carbamide peroxide. Simply check the labels on your teeth whiteners to be sure that you are purchasing with products with carbamide as the main ingredient. Also, look at the percentage of the formula's concentration to ensure that it is a proper strength. Remember, the stronger the formula, the greater the chances of increasing gum and enamel sensitivity.
Dr. Song's Teeth Whitening System
While there are many whiteners on the market, there are a few that are well loved among reviewers. For those who need a strong formula for severe stains, Dr. Song's Whitening System has a 44% carbamide peroxide formula.
Users love the easy to use package, which includes 8 syringes of gel, 2 trays, a spreading brush, and a blue LED mouth light to speed up the whitening process.

Dr. Collin's All White Bleaching Gel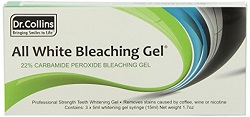 Those who have sensitive teeth and can't try the kit above, can choose Dr. Collin's All White Bleaching Gel containing 22% carbamide peroxide.
Here are some of the benefits of this whitening gel kit:
Professional teeth whitening kit which is a lot cheaper comparatively
Comes with large 5ml syringes which allow 10 dual arch applications
Neutral pH and water based formula which helps prevent tooth sensitivity
Application only takes 30 mins to an hour
It works!

NovaWhite Teeth Whitening Kit
The NovaWhite Gel kit is another 22% formula that users loved for its gentle whitening ability at an affordable price. This kit simply comes with 4 syringes and 3 trays for easy application. People who reviewed this product noticed a whitening effect after as few as two uses.
Here are some of the benefits of this whitening kit:
Professional grade teeth whitening kit (used by dentists)
FDA approved
One of the best teeth whitening kit available on the market
Easy to use at home
Application takes just 30 minutes
Easily removes coffee, wine, soda and smoke stains
Peppermint flavoured gel
22% carbamide peroxide teeth whitening gel which is excellent for sensitive teeth

When using carbamide peroxide formulas, it is important to remember that the whitening effects may not be as dramatic in a short span of time, but they will increase and continue on for a longer time than their hydrogen peroxide counterparts. In other words, don't give up on the formula because you don't see immediate results. Continue applications until you see the desired results, and you will be pleasantly surprised.
Amazon and the Amazon logo are trademarks of Amazon.com, Inc, or its affiliates.