DailyOralCare may earn a small commission if you purchase a product through one of our links (at no cost to you). Learn more.
When it comes to teeth whitening, many of us do not think of ways to prevent stains or maintain white teeth until we experience an onset of yellowing. We then begin the search for the fastest working teeth whitener, hope for the best, and play catch up with our dental care. If you have already seen signs of yellowing in your teeth, chances are you are checking into multiple avenues to reverse staining.
The good news is that along with whitening strips, gels, and lights, you can maximize your efforts to whiten your teeth simply by changing your toothpaste! Many toothpastes are now specifically designed to reverse staining, and help maintain a beautiful, white smile.
If you are ahead of the curve, have no stains as of yet, and want to keep your teeth as white as possible, switching to a brightening toothpaste can save you time and money down the road, and allow you to keep your pearly whites.
There are several toothpastes out there that claim to give you the brightest smile possible. Here are a few very affordable choices that users love!
Crest 3D White Glamorous White Teeth Whitening Vibrant Mint Toothpaste
This toothpaste is very affordable, and does a solid job of both whitening and protecting the teeth from future stains.
Its cleaning silica agents remove up to 90% of surface stains, removing yellow and discolored spots.
It "Whitelock Technology" puts a protective seal over your teeth to provide a barrier between your teeth and potentially staining substances.
It does contain fluoride to help prevent cavities, so if you are sensitive to fluoride try this product in small amounts to see if it causes a reaction.
Click Here to Find Best Price for Crest 3D White Luxe
Opalescence Whitening Toothpaste
Also very affordable, Opalescence comes highly recommended by users as one of the best teeth whitening toothpastes.
It is all natural for those who are sensitive and need to steer clear of chemicals. This toothpaste removes stains from the teeth's surface very effectively, and uses fluoride (again, caution if you are sensitive to fluoride) to protect the teeth against cavities.
Users love the feel of their teeth after cleaning, and the overall feel and flavor of the product is great!
If you find that your teeth become sensitive after everyday use, simply use this powerful product a few times a week for whiter teeth.
Click Here to Find Best Price for Opalescence Whitening Toothpaste
Crest Pro-Health HD Daily Two-Step Toothpaste System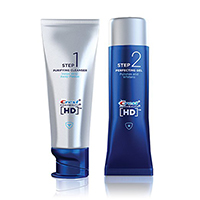 While this product is a bit more expensive than some other toothpastes, users found that it is well worth the extra money.
This toothpaste uses a two-step process, the first step being the Purifying Cleanser. This step works to deeply clean the teeth, getting rid of plaque and debris.
The second step is the Perfecting Gel, which gives your teeth that "dentist visit" polished look and feel. This toothpaste whitens and protects the teeth, and can reverse gingivitis in just a few weeks.
Use cautiously if you have particularly sensitive gums as this product contains a large dose of hydrogen peroxide, which can cause some tissue irritation.
Click Here to Find Best Price for Crest Pro-Health HD
Arm & Hammer Advance White Extreme Whitening Toothpaste
Baking soda has long been regarded as a great natural tooth whitener because of the way it gently exfoliates the plaque off of the teeth, leaving them clean and bright. In recent years, baking soda has become a trend among dental health seekers.
Arm and Hammer (the baking soda company) has their own baking soda based toothpaste combined with hydrogen peroxide for a fantastic teeth whitening toothpaste. This product works to remove stains, and maintain tartar (or plaque build-up) control.
Baking soda is very effective for erasing stains, but can erode the enamel of your teeth if used too frequently. Watch out for teeth sensitivity, and use in conjunction with a baking soda free toothpaste on alternate days for best results.
Click Here to Find Best Price for AdvanceWhite Toothpaste
Crest 3D White Brilliance, Enamel Safe Teeth Whitening Toothpaste
For those with teeth sensitivity, Crest has designed a whitening toothpaste that uses micro-abrasion to finely exfoliate plaque from your teeth in a cleansing foam.
This toothpaste not only whitens your teeth, but also gives your teeth a polished, sleek look. Most users were so satisfied with this product that they felt it replaced their whitening strips and gels!
Changing your dental routine may seem like a daunting task at first, but remember that it is small, consistent changes that will lead to success in creating a brighter, whiter smile.
Click Here to Find Best Price for Crest 3D White Brilliance
Don't neglect your daily habits of brushing and flossing to rid your mouth of bad bacteria, and be thorough when brushing.
Find the best teeth whitening toothpaste for your teeth, and stick with it! Be careful not to over-exfoliate your teeth, especially when first beginning your teeth whitening regime. The trick is not to attack your teeth, which will only cause pain and irritation. Instead, have the patience to gently and slowly remove stains in a safe and effective manner so that you can have a beautiful smile for years to come.
Amazon and the Amazon logo are trademarks of Amazon.com, Inc, or its affiliates.
You might be interested in...